Windspirit Of The Wallowas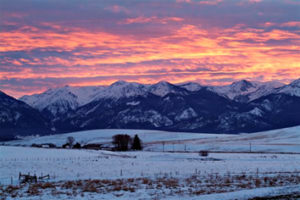 The road to Windspirit Wellness Retreat winds through the spectacular Wallowa Mountains in this remote, wild and beautiful corner of NE Oregon. Located eight miles from the quaint western town and artist colony of Joseph, Oregon, Windspirit Wellness Retreat is nestled in a picturesque mountain valley bordering a babbling trout stream with stunning views of the pine forests and snow covered peaks of the Eagle Cap Wilderness Area. Clients who check in for the weeklong retreat that has been described as, "A life changing experience" inevitably leave here not only a few pounds lighter in mind and body, but with a renewed sense of health and improved understanding of the causes and effects relating to their individual conditions. Most importantly, visitors take with them the life long gift of Hope to Heal.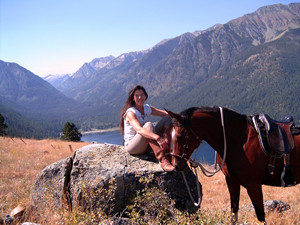 Established in 2006, the Windspirit Wellness Retreat is the realization of a lifelong dream of Laurel Sander, Doctor of Oriental Medicine, Acupuncturist, Master Bodyworker, De-tox Therapist and Medicine Woman. Laurel's dream to create a healing center grounded in nature now thrives in this beautiful valley on the edge of one of America's few remaining wildernesses. 
Laurel's practice, Windspirit Medicine, is dedicated to holistic healing through a proprietary combination of detoxifying cleanses, deep bodywork therapy, Chinese Medicinal philosophies, treatments and herbal formulas.  Laurel's treatments focus on the integration of the physical, emotional and spiritual elements of healing the entire human organism. The peace and natural beauty of the Retreat's location seem to percolate into each treatment as does Laurel's background as a professional trainer, body builder, world class skier and horsewoman. Her two hour-long full body treatments are guided by Laurel's intuitive sense of touch and the integration of deep bodywork, acupuncture, Tui Na and electronic muscle stimulation therapy.
Laurel's own path to becoming a healer began when she was a young teenager in Billings, Montana. Diagnosed with a variety of female medical issues, she underwent numerous invasive surgeries which resulted in no cure for her condition. Intuitively Laurel knew there had to be a better way.  Even as a teenager she poured herself into the works of early 19th century healers, herbalists and medical pioneers in the practice of detoxification and nutrition as part of a "total health" philosophy. After studying sports medicine at Montana State University, Laurel enrolled in a Master's graduate program at the Santa Fe Institute of Oriental Medicine in Santa Fe, New Mexico, followed by a 2 year program at Dr. Alberto Villoldo's Healing the Light Body school. After graduation she began a private medical practice in Park City, Utah and soon couldn't keep up with the demand of clients who were experiencing life changing healing through the cleanses, treatments, lifestyle and philosophies prescribed by Dr. Sander.  A victim of her own success, Laurel dreamed of establishing a wellness retreat away from Utah's creeping urban congestion in a healing mountain setting where all of her experience and wisdom could be practiced.  After a visit to Joseph, Oregon in 1997 to visit the home of world renowned "Horse Whisperer" Tom Dorrance, Laurel knew she had come home.  As the original home of the Wallowa Band of the Nez Perce tribe's vast horse herds, surrounded by wilderness and with a growing arts and outdoor oriented community, Joseph was the perfect place to create her dream.
Windspirit Medicine's menu of treatments is constantly expanding and includes not only her trademark deep tissue bodywork, acupuncture, spinal alignments, foot reflexology, herbal wraps, ear candling, steam and acupressure based facial and full body treatments, but also utilizes the state of the art technology and equipment in colonic hydrotherapy and lymph cleansing treatments.
This potent combination of deep, personalized bodywork along with the cleansing and detoxification plans developed by Laurel opens the body, mind and spirit to the unbridled potential of our ability to heal, strengthen and recognize our full promise as healthy humans.
The life changing transformations experienced by Laurel's clients has also opened the door to a growing international clientele.  Following he 2011 release of "Hope to Heal, The Cleanse", the 120 page Book and 20 minute instructional film written and produced by Laurel and co-writer/filmmaker, Spence Palermo, Laurel's work has come to the attention of world leaders in Functional and Energy Medicine. After being invited to work alongside best-selling authors and Dr. Mark Hyman MD and Dr. Alberto Villoldo PhD at a private retreat in Parrot Cay in the Carribbean's Turks and Caicos. Laurel's international clientele has rapidly expanded In the last year as Laurel has traveled with her "mobile clinic" to work and teach in New York City, Key Biscayne, the West Indies, Switzerland and numerous trips to the UK spreading Hope to Heal.
Although Windspirit Medicine and Hope to Heal continue to attract international attention, Laurel's home and heart remain in Wallowa County with her horses, family and the constant flow of international, domestic and local clients who check into her Oregon Windspirit Wellness Retreat. Guests who check in for the weeklong retreat stay in the cozy historic creek side Cottage which offers peace, comfort and stunning views of the mountains and forests of the Wallowas. While the cottage's décor reflects Laurel's deep roots in the American West, the impressive library of eastern medicine, state of the art western science and spiritually based books and DVD's provide the educational element of the retreat that is an essential part of the weeklong experience. Laurel believes in "Education not Medication!"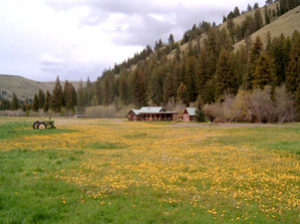 Guests at the cottage can say hello to Laurel's champion endurance horses as they amble across the pasture to the clinic for their treatments. Guests also take advantage of the inspiring, calming and aerobic hiking trails that follow Little Sheep Creek through the pine forests and up to the high open plateau. These "out the back door hikes" reward the guest with awe-inspiring views of the peaks of the Wallowa Mountains. As you walk the path along the creek and through the forest it's not uncommon to see owls, wild turkeys, deer, elk, and coyotes or catch a fleeting glance of one of the resident red tailed hawks or bald eagles that soar over the Ranch.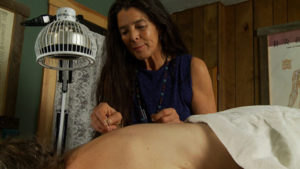 Today Windspirit Wellness Retreat offers hope and healing to hundreds of healthy clients who have discovered effective and economic alternatives to what conventional western medicine offers.  Although the weeklong wellness retreat is designed to put the patient on the fast track to wellbeing, an integral part of the treatment is to learn how to slow down, to quiet our minds so that we can listen to our bodies.  The natural ambience of Windspirit Wellness Retreat is the perfect backdrop for meditation and focus on the integral connection of the body, mind, spirit connection as well as the connection we all have as humans to the natural world. Amidst the tall pines, snow covered mountain peaks and the gurgling trout streams it's effortless to feel that we are all part of the natural rhythms and cycles governed by the laws of the natural world. This in itself is an important revelation and a giant step forward in the process of healing our bodies and connecting with our inner rhythms that offer each of us the Hope to Heal.